ITS Group, an ESN specialising in the acceleration of digital transformation, announces the opening of more than 350 positions to support its strong growth.
Operating in a competitive market, ITS Group is positioned as one of the most dynamic and innovative players and supports the largest organisations and companies in their digital transformation projects on a daily basis. In this context, the group, through its subsidiaries, intervenes in particular on strategic subjects such as infrastructure, cloud, cybersecurity, IT consulting and mobile fleet management.
It is in this context that ITS Group will again invest heavily to complete its teams. Thus, many complementary initiatives have been launched: agile sourcing, cooptation, HR events, development of the employer brand, etc. Finally, in order to develop the loyalty of its talents, ITS Group is deploying numerous resources and implementing a large-scale training policy. These different elements, combined with first-rate working conditions, will enable the ESN to reinforce its attractiveness and to recruit and retain the best talents on the market.
Presentation of the opportunities offered by entities 
ITS Group: 10 permanent hires
Sales
Boulogne-Billancourt
ITS Services: 230 permanent hires (+20 alternating students/trainees)
DevOps engineer; Project manager; System engineer and network & security engineer
France
ITS Ibelem: 18 recruitments on permanent contracts
Workstation engineer
Paris and Nantes region
Mobility consultants
Boulogne-Billancourt and Rhône-Alpes

ITS Integra: 23 permanent hires (+5 alternates/trainees)
Project Manager; System & Network Admin; Cybersecurity Consultant; Sales & Architect; Developer
Boulogne-Billancourt
ITS Eugena and BlueTrusty: 10 permanent hires (+10 alternating students/interns)
Cybersecurity Expertś and Digital Development Experts
Boulogne-Billancourt
Thémis Conseil: 25 permanent hires (+4 alternating students/interns)
Manager; Practice Director; Senior & Junior Consultants
Boulogne-Billancourt
ITS Benelux: 16 permanent hires (+1 trainee)
Consultants
Brussels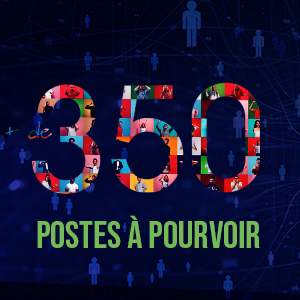 In the context of a shortage of IT specialists, accentuated over the last two years by the pandemic, companies are trying to accelerate the digitalisation of their business processes and are placing automation, resilience and the securing of their vital activities at the heart of their IT strategies.
Indeed, the implementation of emerging technologies in this context of skills shortage is the main obstacle to digital transformation. Thus, in order to meet this need in the Infrastructure & Operations market segment, ITS Group implements its proactive "Agile Sourcing" approach based on the provision of high value-added IT services, relying on the study of technological and market trendś.
This new approach is based on targeting high-potential talents complemented by significant training resources on new technologies; this with the aim of guaranteeing the adequacy of its employees' skills with its clients' projects. Beyond̀ the business aspects and its dynamic of signing new contracts in the Agile, Cloud & DevOps fields, ITS Group is placing equaĺ opportunities at the heart of its new 2022 recruitment campaign with more than 350 positions to be filled. "
Mourad BEN HAMOUDA
Technical Director
ITS Services