Since November 2020, ITS Integra has been assisting a long-standing ITS Group client in its digital transformation: SwissLife. Indeed, in a context of evolution and rationalisation of its IS, the Swiss Life Insurance group has asked its partner to study the implementation of a convergence model for its Level 1 and Level 2 towards a "Shared Service Centre" model.
SwissLife and its need for centralisation
Present in France since 1898, SwissLife is today the second largest private health insurer. It is also the fourth largest insurer in the retirement and provident market for the self-employed. In June 2011, SwissLife created the first insurance that protects the reputation of individuals on the Internet, SwissLife e-reputation.
For the proper functioning of its infrastructures, SwissLife wished to set up an extensive, efficient, reliable and harmonised partnership. To do this, it asked ITS Group to also take charge of Level 1 (24/7 operational third-party maintenance). Indeed, the group, via its ITS Services entity, had already been managing Level 2 since 2018. This is how ITS Integra was entrusted with the supervision of SwissLife's IS.
SwissLife and its need for centralisation
The added value of this partnership can therefore be summarised in one word: synergy. Firstly, ITS Services had an excellent knowledge of the dossier. Secondly, the centralisation of information between ITS Services and ITS Integra facilitated communication. Thus, the realisation of well-established processes allowed cohesion and fluidity in the way the service is delivered.
This alliance between ITS Services and ITS Integra has made it possible to respond to SwissLife's requests in a global manner: one team on site and another off site. This type of case is becoming more and more frequent. The "hybrid" aspect allows for cost optimisation while increasing the performance of IT resources. This type of process combines the pooling of resources and the efficiency of the work done.

We wanted to create a real Level 2. To do this, we launched an invitation to tender and consulted numerous MSPs. What attracted us to ITS Group and by extension ITS Integra, was the size of the company. We were not just another customer drowned in the mass. The proof is that ITS Integra has always been able to respond to our requests, while providing quality work through cordial exchanges. We are not in the classic client-supplier situation, but in a partnership where fluidity and responsiveness remain.
Rynaud TADJER, Manager of the IT Services Department / Operations Department / DSI at SwissLife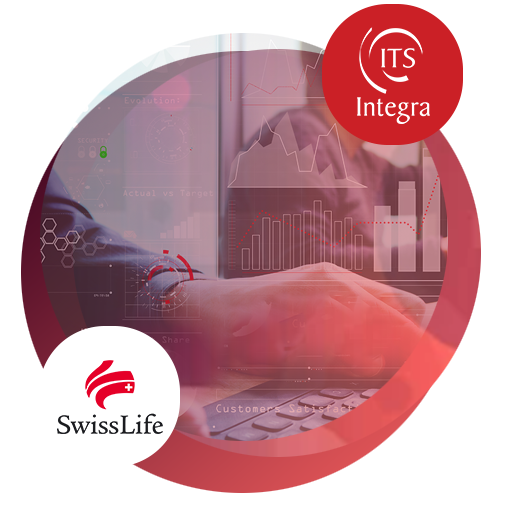 Today, the synergy between ITS Services and ITS Integra allows us to meet the needs of our customers with a new strength. Off-site services reassure the customer and provide security. The off-site part allows us to offer a full range of services and time slots. Importantly, this shared service also offers our client financial optimisation and security in terms of deliverables. With this kind of model, all the information and needs are easily aligned: customer relationship history, existing data and usage history, process improvement... This is the real strength of this kind of approach! « 
Frédéric Morio,
Sales Manager at ITS Integra