Lhe Centre Hospitalier Georges Mazurelle, a Public Mental Health Establishment (EPSM) with more than 1,335 hospital workers on a 43-hectare site in La Roche sur Yonhas adopted PushManager, the French reference for EMM.
The aim of the project launched in 2019 was " to manage and deploy a large number of terminals (around 190 Apple and Android terminals) in order to allow staff, who need them on a daily basis, access to business applications ", explains Bruno Mourlon, Head of Information System Security at the institution, who is in charge of the project.
"The constraints of this project were linked to respecting confidentiality: as healthcare staff may hold health data in their email, it was essential for us to ensure a high level of confidentiality ," explains Bruno Mourlon. PushManager, as Enterprise Mobility Management, has thus made it possible to manage, administer and apply a strong security policy to the EPSM's mobile fleet .
Thanks to the various PushManager functionalities, the Georges Mazurelle Hospital can :
Disseminate the business applications needed by agents
Manage the mobile fleet from a single console
Lock and Delete a terminal immediately to prevent unauthorised access
PushManager is a French solution that is independent of any operator", says Mr Néron, Information System Manager, " it met our needs while remaining financially accessible. Moreover, its availability on the UGAP public purchasing centre simplified the acquisition process ". Developed and hosted in France, PushManager offers rapid support adapted to the needs of customers thanks to its support team based in Nantes. " We were pleasantly surprised by the responsiveness of the support we can count on," concludes the RSI of the EPSM de Vendée.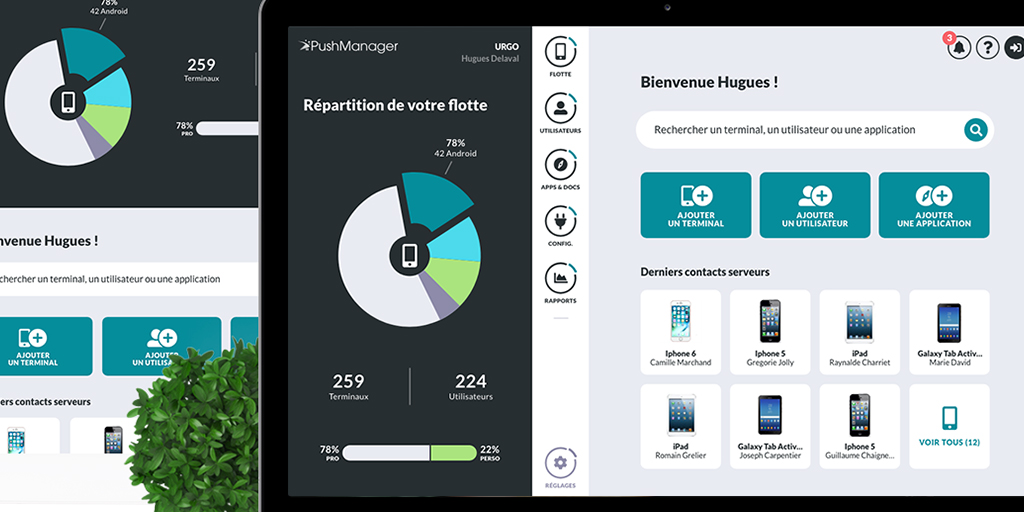 About PushManager
PushManager is a French EMM solution developed in Nantes by ITS Ibelem, our entity specialised in Mobility and Networks, which allows us to manage the remote configuration and security of our customers' tablets, smartphones and Windows 10 computers. We are proud to count many successes with our customers such as police and gendarmerie intervention forces, SDIS, departmental councils, town halls, laboratories, transporters, schools...