The Société Générale Group renews its confidence in the support provided by ITS Services within the framework of the evolution of its project management, production coordination and technical IT expertise activities.
One of the axes of the Société Générale Group's digital transformation is to improve its operational efficiency. The design and automated deployment of secure IS solutions that make the most of technology is one of the means of achieving this. However, the application portfolio includes very critical legacy applications whose technical debt must be managed (obsolescence management, regulatory changes). These critical applications require a different kind of agility from DevOps. The latter requires seamless coordination between the various departments, knowledge and control of the application packages, as well as coordination of production operations and the implementation of new infrastructures at international level.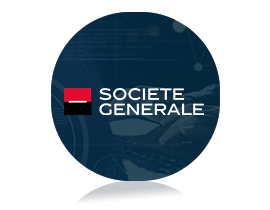 Coordination is based on the roles of Solution Project Management (SPM) and Integration Service Management (ISM), which are the cornerstone between the technical experts, the architects, the application project managers, the budgetary controllers, the control tower and management.
The aim is to ensure effective end-to-end coordination:
In the BUILD phase for SPMs: scoping of infrastructure requirements, with monitoring of the Deliver-IT process for building application environments, validation of the budget, deliverables, schedule, and all prerequisites for going into production (supervision, operating procedures and documentation)
In the RUN phase for ISMs (infrastructure MCO, changes including application releases and minor evolutions, production launches, incidents, problems, PCA/DR, capacity planning, obsolescence, monitoring, decommissioning, etc.)
For several years, ITS Services has been meeting this need of the Société Générale group and has demonstrated its ability to provide it, in a timely manner, with experienced project management and operational management profiles.
Today ITS Services continues its support for a renewed period of several years, via a Multiple Technical Assistance and a proximity governance combining three levels of concern:
The strategic and innovation level
The tactical level, managing service levels
The operational level for stock, project management