ITS Integra launches a new Cybersecurity solution: SOC Trust
In order to reinforce its positioning in the field of cybersecurity, ITS Integra has just completed its offer with a device that allows its customers to better control the security of their data: SOC Trust, a 100% sovereign managed SOC. Indeed, with the increase in cyber threats observed in recent years, customers have become aware that any Information System is a potential target for cybercriminals who exploit the slightest vulnerability. The often very serious consequences of these attacks regularly make the headlines and highlight the need for any organisation to make data protection and remediation a top priority:
TPE
SME
Local authorities
Ministries
Private and public hospitals
Service providers
etc.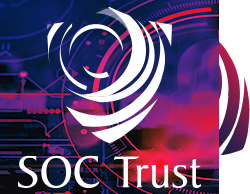 Our role as an actor in the event of a cyber attack on a client is changing from reactive to proactive thanks to our "SOC Trust" solution. This project is strategic for us. Our customers are very demanding in terms of concrete and qualitative responses - and increasingly sovereign responses - to ensure their security. Moreover, after a month of pre-launching with our customers, the meetings are going well. The interest aroused confirms that expectations are high and the use cases numerous. Some customers are looking for a guarantee of remediation for their entire IS, while others want to secure their DevSecOps development chain only.
Geoffroy de Lavenne, Managing Director ITS Integra
The choice of SIEM as the core of the solution
An MSSP must be able to simplify complex systems, in order to allow its customers to control both the protection of the IS and the associated budget. Thus, the business model must be as comprehensible as possible with a price per protected device. The same applies to service level commitments. The relationship with customers is based on trust, which implies the need to provide them with clear and legible offers regarding the scope of responsibility, changes over time and reporting.

We have tested and qualified many tools. We are pleased to have chosen Reveelium, published by a French player recognised in the field, ITrust. It is an "intelligent" SIEM powered by a powerful correlation engine associated with an innovative behavioural analysis. It enables the alerts generated to be sorted and analysed, so that only the most relevant ones are reported. These are then processed by our cybersecurity unit. It is then responsible for proposing and carrying out remediation actions. With the support of ITrust's teams, we chose to deploy the platform in our own data centres, thus guaranteeing a 100% sovereign service, with the entire chain produced in France.
Thierry Del-Monte, ITS Integra Engineering Director