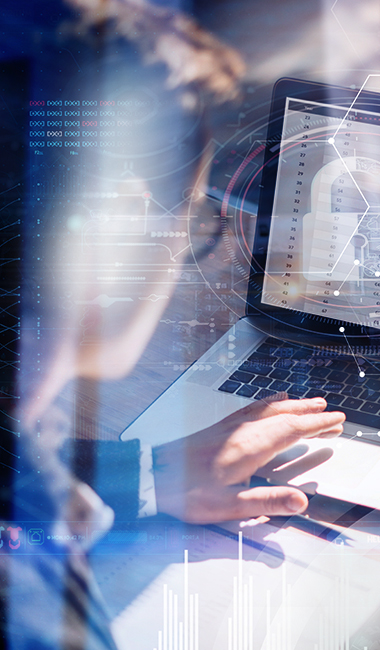 Today,we introduce Benjamin, our IT security expert working for our key account client in the e-commerce sector. IT security is a complex field that covers many areas of expertise. There are many ways to enter and progress in this field. His successful experience is a testament to both his professional and personal performance.
Benjamin, what is your background?
In 2016, I joined ITS Services, an entity of ITS Group, as an IT technician for a mission of firmware updates for one of our major clients.
I then collaborated with the office automation teams on the management of the park and with the security teams on the hardening of workstations and servers.
Afterwards, my mission evolved towards the project. I carried out infrastructure studies, chose solutions and ensured their implementation. In particular, I led projects to set up an EDR (Endpoint Detection and Response), a NAC (Network Access Control), a DLP (Data Loss Prevention) solution within the framework of the RGPD, and a FIM (File Integrity Management) within the framework of the PCI-DSS regulations.
I am now a member of the SOC (Security Operations Center) team, which manages incidents for our client and for other entities in the group.
What has been your biggest customer challenge?
One of my biggest challenges has been to implement a DLP solution that goes far beyond simple data monitoring. It includes, for example, data classification, Active Directory monitoring and the creation of behavioural alerts.
This solution has been linked to the SOC to process alerts in real time. It also automatically generates reports used by operational teams and for SOX compliance.
What is your technical expertise?
I became the reference for the applications I implemented. Today I provide support to the operating teams and I am involved in the analysis and correction of problems.
What motivates you every day in your work?
We have implemented state-of-the-art solutions with frequently changing functionality. As new and more complex risks are constantly emerging, we need to keep our solutions up to date.
At the same time, I am part of a close-knit team that is a pleasure to work in. 
COVID context: how do you deal with the new work habits?
There are advantages and disadvantages to teleworking. The first advantage is of course the elimination of commuting time. Being at home means that you are less disturbed and can concentrate better. However, being at home no longer provides a real break, which can become tiring. Being able to return to the site once in a while breaks the routine. 
What does ITS Services bring to you in the context of your professional development?
ITS Services allowed me to evolve professionally 3 years ago by giving me the opportunity to reach executive status through the recognition of my abilities. I can only thank them for the trust they have placed in me. This mission allowed me to discover new technologies and to follow their evolution over the years. 
What are your main sources of information related to your business expertise?
We subscribe to several mailing lists in order to keep ourselves informed about news and detected CVEs (Common Vulnerabilities and Exposures), notably the CERTs of the ANSSI and security providers.
Otherwise, like everyone else, I satisfy my curiosity with Google.