ITS Group's Mobility and Networks subsidiary offers and deploys the visitor Wi-Fi solution
100% Cloudi-FI cloud, with advanced marketing options and full RGPD compliance.
French start-up Cloudi-Fi enables companies to transform their passive Wi-Fi into a dynamic and personalized communication platform. Its solution offers the ability to perform comprehensive data analysis, meet stringent compliance and security requirements, and exploit the opportunities presented by the digitalization of organizations.
Ranked in the Top 10 in France in the Technology category of the Financial Times ranking of Europe's Fastest Growing Companies, Cloudi-Fi is mobilizing a panel of international partners to rethink the Wi-Fi ecosystem and services related to the digital transformation
.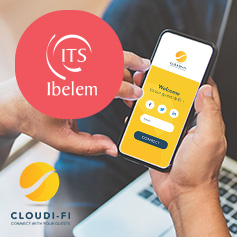 If security is obviously one of the concerns of managers, it is also essential for companies to maintain a fluid digital relationship with their various audiences, and this is exactly what our collaboration with ITS Ibelem offers".
Damien CHASTRETTE - Co-Founder and CEO of Cloudi-Fi
ITS Ibelem, which supports the IT teams and pilots Mobility and Network projects in all their dimensions, strives to deliver a turnkey solution, from integration to maintenance in operational conditions. Ibelem ITS experts are certified at the highest level by the main editors on the market and can help the customer make the right choice according to the specific context.

As an integrator of Mobility and Network solutions, our customers are always looking for technologies to provide employees, customers and visitors with an impeccable digital experience. Offering a 100% cloud-based visitor Wi-Fi solution such as Cloudi-Fi will allow them to reinforce their digitalization from the moment they arrive at the reception desk.
Jean-Cédric MINIOT - Deputy Managing Director of ITS Ibelem