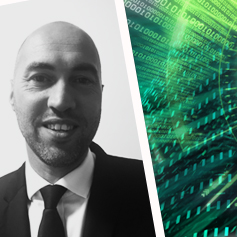 The year 2017 will undoubtedly be a key year in terms of digital transformation for companies. In this context, both ETIs and major accounts continue to invest massively to accelerate their transformation and the digitalisation of their processes and organisations.
Based on this observation, the dimension related to the infrastructure and control of communication processes seems to be positioned as a strategic priority for information systems departments. This is reflected in the launch of many large-scale projects in different segments.
Mourad BEN HAMOUDA, Pre-Sales Manager at ITS Group, IT Services company specialized in accelerating the digital transformation of its customers, gives us the five main trends of this year:
The GDPR or RGPD
On April 27, 2016, the European Parliament voted on the implementation of the General Data Protection Regulation (GDPR) which will come into force on May 25, 2018. This regulation will bring about major changes for businesses. CIOs are beginning to respond to this regulation by revising their data management policies and installing "mapping", "pseudonimisation", "audit" solutions...
As the fines can be as high as 4% of global turnover (capped at €20M), the question of compliance with the GDPR/RGPD does not arise.
The transformation to a Devops delivery model
For nearly 10 years, with ITIL version 3 in particular, Information Systems Departments have been implementing IT service management organisations based on linear and structured processes. The operations carried out over the last decade have led to the implementation of structured Service Centres, which are the foundations of this new stage in the transformation of information systems.
Faced with the need to accelerate time to market and gain agility, an alternative DevOps model is in full expansion. The advent of DevOps is overturning traditional models since it requires a rethinking of the business of IT production and IT infrastructure. It involves transforming and deploying new organizations based on continuous processes: Continuous Integration, Continuous Qualification, Continuous Deployment, and Continuous Monitoring, all through Agile project cycles.
By relying on Cloud offerings to accelerate provisioning of technical environments, Information Systems Departments are facing new challenges to accelerate provisioning of data and the operations layer, the final step in the full implementation of a continuous DevOps model.
The digital transformation is accelerating!
Cloud and Security
These two points are at the heart of the issues related to the hosting and outsourcing of companies' IS. In this context, most CIOs invest significant resources to rely on agile and ultra-secure environments. This fundamental trend should continue to accelerate due to the constant growth of Cloud projects and the new challenges associated with hosting the IS and its applications.
Mobility
Until recently, mobility has mainly consisted of ensuring remote connection, administration and security of mobile terminals with EMM (Enterprise Mobility Management) solutions equipped with containerisation and encryption tools. Now, the major challenge is to ensure a level of security that is commensurate with the threats that arise. To this end, companies are increasingly equipping themselves with dedicated third-party solutions such as application security software that complement the security offering of EMM solutions. Tomorrow, with identity management between the Cloud and enterprise directories, CIOs will focus more on identity management and Single Sign On. The second major challenge will be to homogenize the user experience so that the use of the tools is as simple in a mobile situation as it is within the company.
Databases and Data Management
These last points are also particularly important and lead IT departments to rethink their environments (in terms of database management) and to better exploit their "data" capital, which is often poorly or lightly used. In the short term, Data Management projects will therefore be a real challenge for companies wishing to strengthen their competitiveness.
A frequently encountered problem is the storage of copies of databases. Indeed, the environments (test, development, integration, pre-production, production) and one-off or recurrent processing (BI and statistical analysis) generate an exponential global volume, in comparison with the "source" volume of production data. Depending on the case, the multiplying factor can be around 10, i.e. 10TB stored (and partly backed up) for 1TB of "source" data.
Of course, this has a direct impact on storage, backup and administration costs. Reducing the volume of data and simplifying copy management becomes a real economic challenge for CIOs.
Far from being exhaustive, this list highlights that many of the projects that IT departments will have to manage will impact and modify their IT infrastructures and that it is therefore necessary to integrate this strategic factor into their major transformation projects.